★1.MULTIPURPOSE:The price is cheaper than the ordinary furniture,with 8 Plastic Bins stores lots of children's toys and books.Perfect gift for boys and girls,children's furniture,organizational basics, and storage solutions.Although perfect for kids toy storage, this handy 8-bin organizer has many other uses.use the toy storage bins to keep everything tidy

★2.EASY ASSEMBLY:Easy to assemble toy organizer for blocks, crayons, toy trucks, dolls, and more is great for boys and girls ages 3 years and up.This Kids Toy Room Organizer with Plastic Bins.You only take 15 minutes to assemble toy storage organizer.

★3.SUFFICIENT STORAGE SPACE:Toy Storage Organizer with 8 Plastic Bins,So much more than a toy chest with shelves.The height of the toy bins in this toy chest is just right for toddlers and preschool-aged children.It has larger apace and toddler book rack.

★4.STRUCTURAL DESIGN:The design suitable for children organize their own admission.Toy Organizer is a fun and functional place to store toys in an easy to use, easy to see and easy to access place.Toy Organizer with Storage Bins from Gupamiga makes cleanup time easier than ever.

★5.HIGH QUALITY:Toy Storage Organizer with 8 Plastic Bins.Plastic material will not be affected by moisture, environmental protection PP material.toy organizers for kids,toy box.toy chest for girls and boys.The kids'toy storage organizer

Increase the size of the bin

This space-saving Kids Toy Storage Organizer with 8 Plastic Bins storage lots of children's toys, books and crafts in easy-to-see, easy-to-access plastic bins. Designer deliberately widened size and increase space of plastic bins, don't worry that the children and parents can't put large size toys.The size is 13x13x5inches.




Reasonable height design

The height of structure suitable kids' height can store toys independently and exercise their practical ability and awareness.Mom will never have to worry about losing his toys! Say goodbye to clutter.Such a toy storage organizer is suitable for children of any age!

Safety product quality

The products is once forming, make the storage solid and stable, not easy to damage. Manual trimming without burr, will not hurt baby. Plastic material will not be affected by moisture, environmental protection PP material, can be washed directly with water. The material of plastic bins is very solid, not easy to damage in transport process. Unlike wood, wood is mouldy in a wet environment. Install all plastic nuts to increase safety, at the same time provide matching plastic screwdriver.

Safety reinforcement innovation
The design of between the storage organizer and wall add to screw connection, can increase stability, children will not easily be pushed over. Fixed bookshelf can support the weight of ordinary adults sitting on it.
The customer can choose whether to add this function according to the requirements.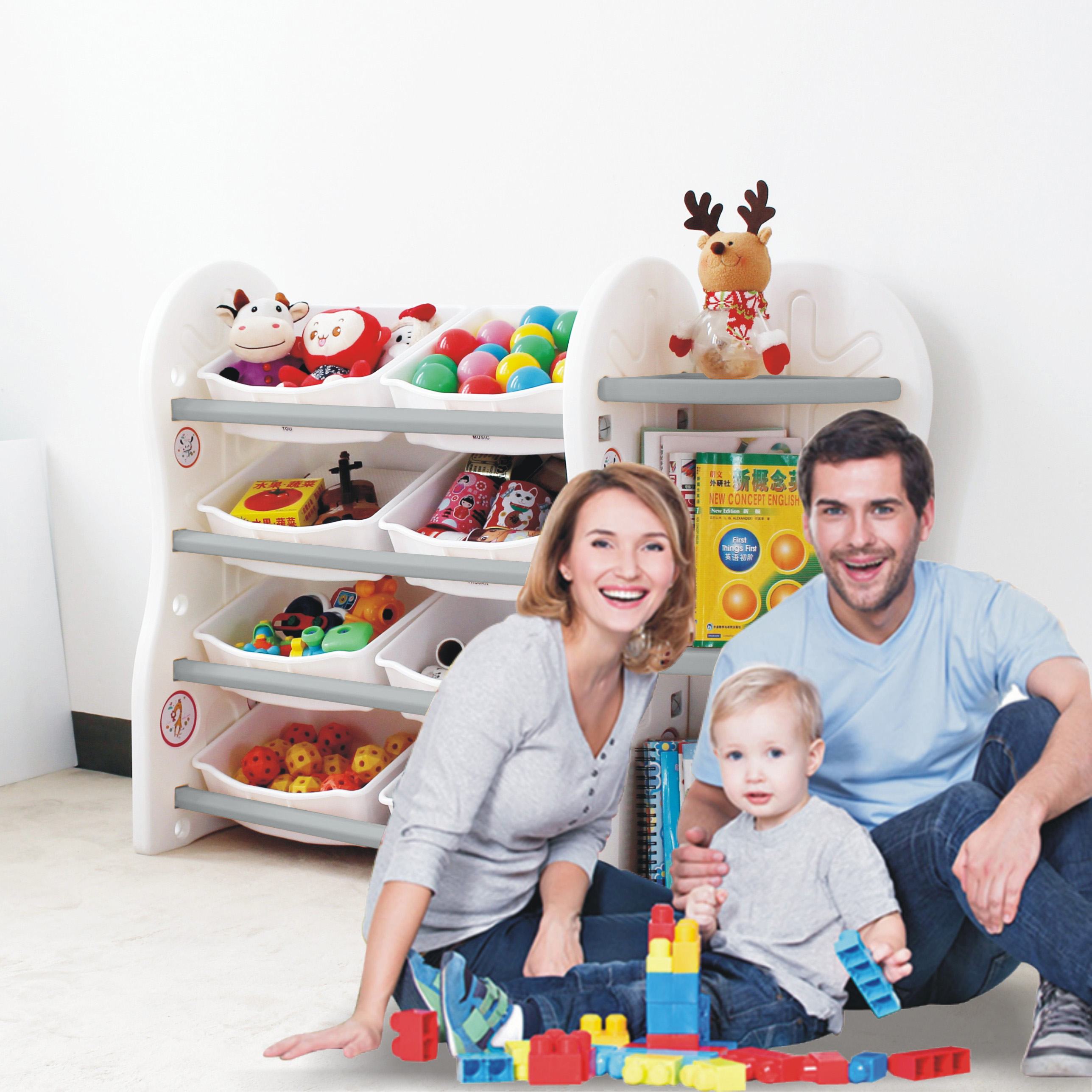 Fashion design
Give a person to bring a contracted feeling, put in the home any place to go together, adopt the color design of more downy, concise decorate effect.